Susan Victoria Phillips
captures illusions of reality, AND of moments frozen in time.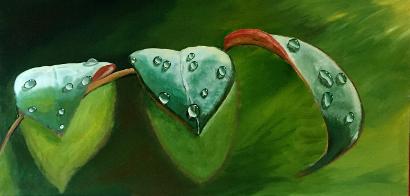 Raindrops, 24" x 48",Acrylic on Gallery Wrapped Canvas
Introduction
Susan creates fresh, vibrant images that capture the detail of her subjects. Her realist style utilizes additional, often subtle, pictorial elements to create the illusion of a reality, which in fact either does not exist or cannot be seen by the human eye.
Her Work
Susan's subject matter is eclectic and ranges from still life, landscapes, city-scapes and narrative scenes. Whether you're looking for simple piece to complement your decor or need help with a larger project, she welcomes the opportunity to work with you. If you are in the Victoria BC area, Susan is happy to come to you, or why not visit her studio in beautiful Victoria BC.
Feel free to look through Susan's portfolio for a sample of her work. If you have any questions, please click contact.
Approach
Susan's inspiration comes from the ocean, the lakes and streams, forests, creatures and the wonderful people she meets. She is a story teller and welcomes you to join her on this visual journey.